Research and Innovation
---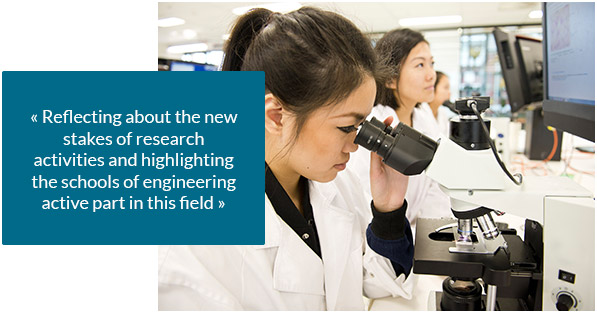 The Research and Innovation Commission was created in 2011.
Chaired by Jean-Baptiste Avrillier, dean of Centrale Nantes
Vice-chaired by Laure Morel, dean of ENSGSI
Vice-chaired by Laurent Buisson, dean of AgroParisTech

Vice-chaired by

Lionel Torrès, dean of Polytech Montpellier
This commission has two main topics of interest: reflecting about the new stakes of research activities and highlighting the schools
of engineering active part in this field.

The role of the Research and Innovation Commission
---
Research is a fundamental and strategic line for the development of schools of engineering. The Research and Innovation Commission is therefore in charge of defending the viewpoint of schools of engineering so that they are involved in the definition of the National Research Strategy.

The Research and Innovation Commission also acts so as to make research activities of schools of engineering more attractive, through framework agreements with the greater research organisms and an active participation in the French research alliances.

The priority topics of the Research and Innovation Commission
---