Student Guidance
---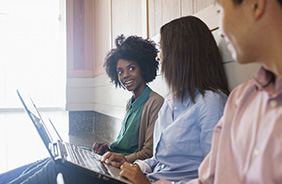 The Student Guidance Commission takes over some missions of the former Education and Society Commission, which was created in 2011.
Chaired by Philippe Depincé, dean of Polytech Nantes
Vice-chaired by Véronique Bonnet, dean of ESME-SUDRIA
The role of the
Student Guidance Commission
---
This commission has two main topics of interest : encouraging high school students to choose Engineering courses and ensuring Engineering students the best living and study conditions. Both have the same objective, which is to support students before and during their Engineering studies.

It also feeds the debate on social topics : equal opportunities, gender equity, higher education accessibility, ethics, student's life and learning conditions, sustainable development, etc.

The priority topics of the Student Guidance Commission
---
The Student Guidance Commission focuses on the following topics :
guiding schools in the implementation of the Ministry of Higher Education and Research's Student Life Master Plan (SDVE);
improving the student experience ;
working on the recognition of student community service;
reflecting on relations with student associations
promoting Engineering courses and guiding students;
working on equal opportunities and social inclusion;
ensuring the schools' accessibility for students and staff with disabilities;
combating discrimination;
combating harassment and gender-based and sexual violence;
working on students grants and life aids.