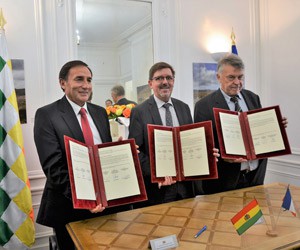 Signature of an agreement on mutual recognition of diplomas with Bolivia
03/07/2018
On June 21st, in presence of Mr Juan Gonzalo Duran Flores, Ambassador of Bolivia in France, CDEFI and the Conference of University Presidents (CPU), represented respectively by Mr Marc Renner and Mr Jean-Luc Nahel, signed a mutual recognition agreement of diplomas with Bolivia.
This agreement aims to guide Bolivian and French higher education institutions willing to promote student mobility between both countries, to facilitate the mutual recognition of these institutions taking into consideration their studies, to develop new partnerships and ultimately
to increase student mobility

.
It follows the mutual recognition agreements recently signed with Latin American countries such as Costa Rica (2015), Panama (2016) and El Salvador (2018).
CDEFI, the CPU and the executive committee of the Bolivian University (CEUB), represented by M. Juan Gonzalo Duran Flores, remembered the historic and cultural relationships between Bolivia and France, as shown with the agreement of cultural, scientific and technical cooperation signed in La Paz in 1966. They also mentioned that the signature of the mutual recognition agreement reflects
the transparency and mutual confidence
, considered as necessary to meet the agreed objectives.
Download the agreement
in French
or
in Spanish
.